Sam Lewry – NZ Artist
Marton – Rangitikei – New Zealand

Sam is a self taught artist who works from her home based art studio in Marton – Rangitikei NZ. Marton is a small country town located only a few minutes drive off SH1, and is situated midway between Palmerston North and Whanganui, and two hours drive from Wellington New Zealand. Originally from the Kapiti Coast Sam started painting back in 2009 while based in Napier, Hawke's Bay.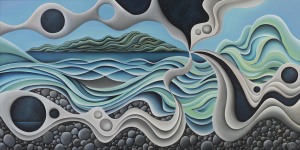 What's On
Sam is busy preparing work for the Kapiti Arts Society, invited to be their feature artist for an exhibition in Feb 2018, and also for the Whanganui Artists Open Studios in March 2018.
Studio is now open for visitors too – Saturdays & Mondays from 10am to 2pm (October to April), open other times – please look for the sign.
Work is also available at Artel Gallery on the Kapiti Coast and Artmosphere Gallery in Waipawa.
Studio Visitors Welcome
A full range of paintings, illustrations, art prints and greeting cards are on show at the studio.
Cash, eftpos and credit card payment available.
Seasonal Hours: Saturdays & Mondays from 10am to 2pm (October to April).
Alternative times can be arranged – please text or phone Sam first or you can swing by and look for the open sign.